VOLUNTEER OPPORTUNITIES
at the
Oakland Catholic Worker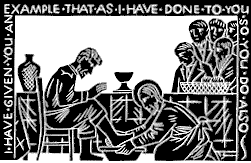 The Oakland Catholic Worker, part of the Catholic Worker movement founded by Dorothy Day and Peter Maurin, is a combined project of North and Latin Americans and has provided hospitality, community and empowerment to Latin American refugees and immigrants since 1987. For recently arrived Latinos, we offer room and board while offering accompaniment to meet their needs in the areas of health, legal status, employment, education, community, worship as well as cultural and other forms of orientation. For past house guests, their friends and family, our programs focus on education, community building and leadership opportunities.
GUEST ACCOMPANIMENT & SUPPORT
Serve house guests by: assisting translating meetings with guests; providing spiritual and emotional support; accompaniment on job searches; legal & medical appointments and orientation to public transportation; assistance in filling out various forms; tutoring children. (Some Spanish skills required.)
E.S.L. PROGRAM
Depending upon proficiency of Spanish, teach one of four levels of English or a Spanish literacy class twice per week.
OFFICE ASSISTANCE
Answer house door and telephone; run errands; send written thanks to donors; enter donor information into computer database; handle various special research projects. No computer literacy required.
FUNDRAISING
As a member of a team, help plan and coordinate special events, direct sales campaigns, parish outreach and presentations; write grant proposals.
TRAINING
Volunteers are paired with a staff person who is the primary contact, trainer and supervisor in the areas of work.
LOCATION
4848 E. 14th Street Oakland, CA 94601
For more information, contact Marc McKimmey at (510) 533-7375